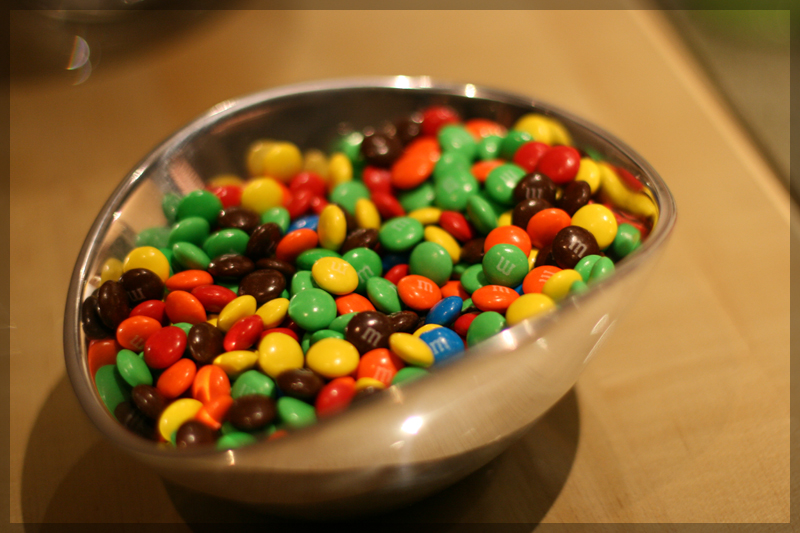 A few friends have complained that I don't have enough cookie recipes posted on this blog. Maybe the name "Ultimate Cookie" is a bit lofty, but whenever I bake these cookies they seem to disappear pretty quickly. I'll let you decide what they should be named:
Ultimate Cookie
1 cup granulated sugar (plus additional for shaping cookies)
1 cup brown sugar
1 egg
3/4 cup cooking oil
1 1/2 cups rolled oats (not instant)
1 cup crushed corn flakes
1/2 cup chopped walnuts
3 1/2 cups sifted all-purpose flour
1 tsp. soda
1 1/2 tsp. vanilla
1 cup M&M's plain candies
Preheat oven to 350 degrees F.
In large mixing bowl cream together butter and sugars until light and fluffy. Stir in egg and oil until well combined. Stir in remaining ingredients, except M&M's until well mixed. Gently stir in M&M candies.
Form into one-inch balls and place, 2 inches apart, on ungreased cookie sheet. Flatten slightly with bottom of glass dipped in granulated sugar. Bake at 350 degrees F. for 10 minutes or until edges are golden brown and middle of cookie is no longer moist. You want the cookie to be chewy/soft in the middle but not doughy. Allow to cool on the pans for 2 minutes before removing to cooling rack.